Sayan Dey
Developer Experience at
Matrix Media
A self taught enthusiastic web developer from Kolkata. Who loves modern web technology, web stuff creation, and interactive coding layouts.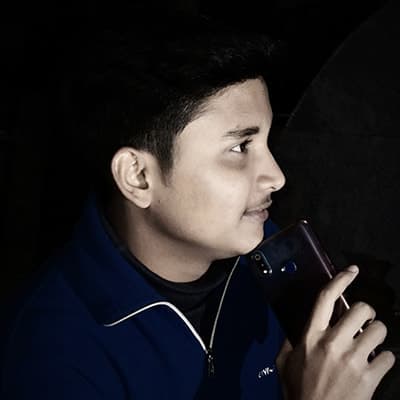 Featured Posts
Read all posts
GitHub Projects
See all projects
Life Journey
2023
Check

Joined Matrix Media Solutions Pvt. Ltd. 🥳

I joined Matrix Media as a Senior Web Developer. I have been working in this role since May 2023 and I am responsible for the development and maintenance of websites and web applications.
2022
Check

Built and Deploy sayandey.dev 🌐

Built and Deploy Open-Source Portfolio with Next.js, Tailwind CSS, Prisma ORM, PlanetScale, Sanity.io, and Vercel.

Learning NodeJS, MySQL along with React. The best practices to build products and web apps which can scale easily.

Check

Edology 1 Year Journey

Completed 1 year and gained experience as Industrial Developer in Edology. Contribute to 75+ websites and their technology. It's been a great journey for me.
2021
Check

Learnt Frontend Development

Learnt and focus on HTML, CSS and modern JavaScript for responsive and modern web app. Picked Bootstrap and TailWind CSS as my primary framework.

Joined Edology as a Web Developer. Do custom theme development, convert the static site to dynamic, and executed tactics to make the web faster.

Check

Created COVID-19 Tracking System

Build a web app to track latest Coronavirus update vaccination slots avavility in their area and city.
2019
Check

Published Bloggingmetrics

Bloggingmetrics helps you to learn blogging tips, tricks, strategies, techniques. Help you to create dazzling blog content to hyperloop your blog.

Check

Explore .NET Framework

Joined G.T.T.I (George Telegraph) to learn object-oriented programming like C#. Mostly play with ASP.NET and SQL database.

Check

Internship - TechYuga

Got an Internship at TechYuga as a Field Engineer Intern. Where our team develop, build, and maintain network architectures.
2018
Check

Learn Network Structure

I attended a computer network architecture course in our city. This is a big achievement for me as I got the best student award and learned a lot from here.

Check

Introduced to Open Source ⚡️

Always love Open Source Software and Open Standards. I got to know about Free Software Foundation, Git and GitHub, and Linux systems.

Started learning logics and basic programming fundamentals with Object Oriented Programming.

After lots of research, I bought a domain called fixmyerror.com and started my blogging journey. Basically, I write about computer and network problem fixing.
ThinkInnovative idea's.

CodeUtilize on VSCode.

DeployPush it on Server.
Subscribe to the newsletter
Get emails from me about web development, tech, and early access to new articles.
NaN subscribers – View all GitHub issues